The Hemingford Abbots Playing Fields have Charity Status.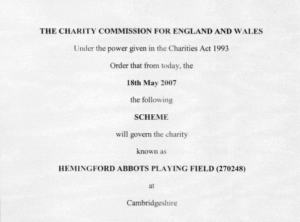 As set out in the schedule of this scheme:
The objective of the charity is, in the interests of social welfare, to improve the conditions of life for the inhabitants of the area of benefit without distinction of political, religious or other opinions by the provision and maintenance of a playing field.
The land identified in Part 1 of the schedule to this scheme must be retained by the administrative trustee for use  for the object of the charity. 
Part 1 – Land situate in Hemingford Abbots abutting on Royal Oak Lane and having frontage of approximately 380 feet forming the greater part of plot 244 on the Ordnance Survey Map together with a strip of land 7 feet wide running alongside the Village Hall from the High Street to the Playing Field. 
The Hemingford Abbots Parish Council are the Administrative Trustees of the Playing Fields. In addition to any other powers which they have, the administrative trustees may exercise the following powers in furtherance of the objects of the charity:
Power to make rules and regulations consistent with this scheme for the management of the charity. The rules may include the terms and conditions upon which the playing field may be used by persons or bodies other than the administrative trustee and the sum (if any) to be paid for such use.  
2022 April 25th HAPF Agenda (PDF)
2022 January 24th HAPF Minutes (PDF)
2022 January 24th HAPF Agenda (PDF)
2021 October 25th HAPF Minutes (PDF)
2021 October 25th HAPF Agenda (PDF)
2021 July 26th HAPF Minutes (PDF)