Village Hall, Hemingford Abbots, 1st Wed every month (exc. Aug) 7.30 p.m.
We are a warm and friendly group of some 30 members from Hemingford Abbots, Hemingford Grey and surrounding towns and villages.  New members are warmly welcomed.  For enquiries please contact Janine Hamilton, President, 01480 390505.
A glimpse back …….
July 2019
A special year deserves a special outing and our trip to Carriages in Fen Drayton didn't disappoint.  Carriages is a stunning venue with beautiful gardens and static vintage train carriages and station.  The attention to detail is quite magnificent.  Members enjoyed a delicious afternoon tea and the opportunity to relax and chat.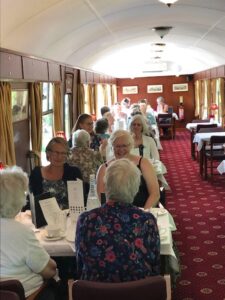 June 2019
Our WI enjoyed a very different evening this month – church and chips.  We met at St Margaret's Church to learn about the church and see some of the special church possessions not always on show.  Our guide for the evening was church warden David Wordsworth  who shared his knowledge and expertise with us.  Several members ventured up the newly installed spiral staircase in the bell tower.  Those who did the climb were rewarded with specatular views of the village.
After our tour of the church members retired to The Axe and Compass for chips and a well earned drink!
May 2019
Unfortunately our speaker for our May meeting was unable to attend following an accident.  We were lucky to find a last minute substiute, Johnny Brown, a resident of  Hemingford Abbots and a beekeeper.  Johnny gave members a talk on his beekeeping experiences and fielded many excellent questions from the audience.
A glimpse back at 2018……