The Parish Council was reminded of the existence of the milestone when Mrs Peggy Fawcett asked where it was and what had become of it. After enquiries were made the stone was located half in a ditch beneath a hedge at the southerly end of New Road, close to the junction with the dual carriageway.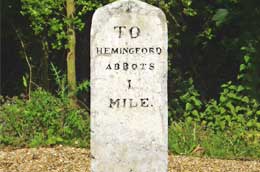 It was known from early Ordnance Survey maps that the milestone had originally been sited at the southern end of Rideaway when it was a crossroads junction into the village from the Cambridge Road. The 1926 O.S. map shows this milestone on the east side of Rideaway at this junction, and at a height of 44 feet above sea level. When A604 was made into a dual carriageway in the 1970s, and the Rideaway junction altered into a flyover, the County Council moved the stone into New Road. There the stone became completely obscured and forgotten as the hedge grew around it.
The milestone was originally erected by the Godmanchester to Newmarket Heath Turnpike Trust (formed in 1745 to manage that stretch of road). A Turnpike Act of 1767 required milestones to be placed along roads to show both the distances along the turnpiked road and the distances to parishes leading from the road. The Hemingford Abbots milestone is an example of the latter, and has a surviving 'twin' with the Hemingford Grey milestone situated at the southern end of Gore Tree Road.
The milestone is a piece of oolitic limestone [oolitic is of Greek derivation, meaning fish eggs, and describes the appearance of the composition of the stone]. Fortunately the stone has suffered very little damage over the years. It reads 'Hemingford Abbots 1 mile'. At some time the Ordnance Survey cut a bench mark on top of it.
Once the stone was 'rediscovered' the Parish Council set about its restoration, and worked in conjunction with the District Council Conservation and the County Council Highways Departments, the Hemingfords Local History Society and the Milestone Society. It was agreed to move the stone back to Rideaway, about 200 yards north of its original position. Mr Stephen Desborough was contracted to do the work. The stone was extremely heavy and awkward to manoeuvre, but it has now been securely set in the ground with lime mortar. It is in a safe position well back from the road and with a gravel surround to protect it from the blades and flails of the verge cutting machines.
On Friday October 10th 2003 the Milestone Society lime-washed the stone and highlighted the legend in black, and it now looks as it would have done to travellers nearly 250 years ago.
The Hemingford Abbots Milestone now makes a pleasing sight at the entrance to our village