Houghton and Wyton and Hemingfords Angling Society
Houghton and Wyton Angling Association was formed in 1949. The name was changed in 1953 to also incorporate the Hemingford's.
The club has the fishing rights to 4 miles of the River Great Ouse and its backwaters.
Below are maps of our club waters.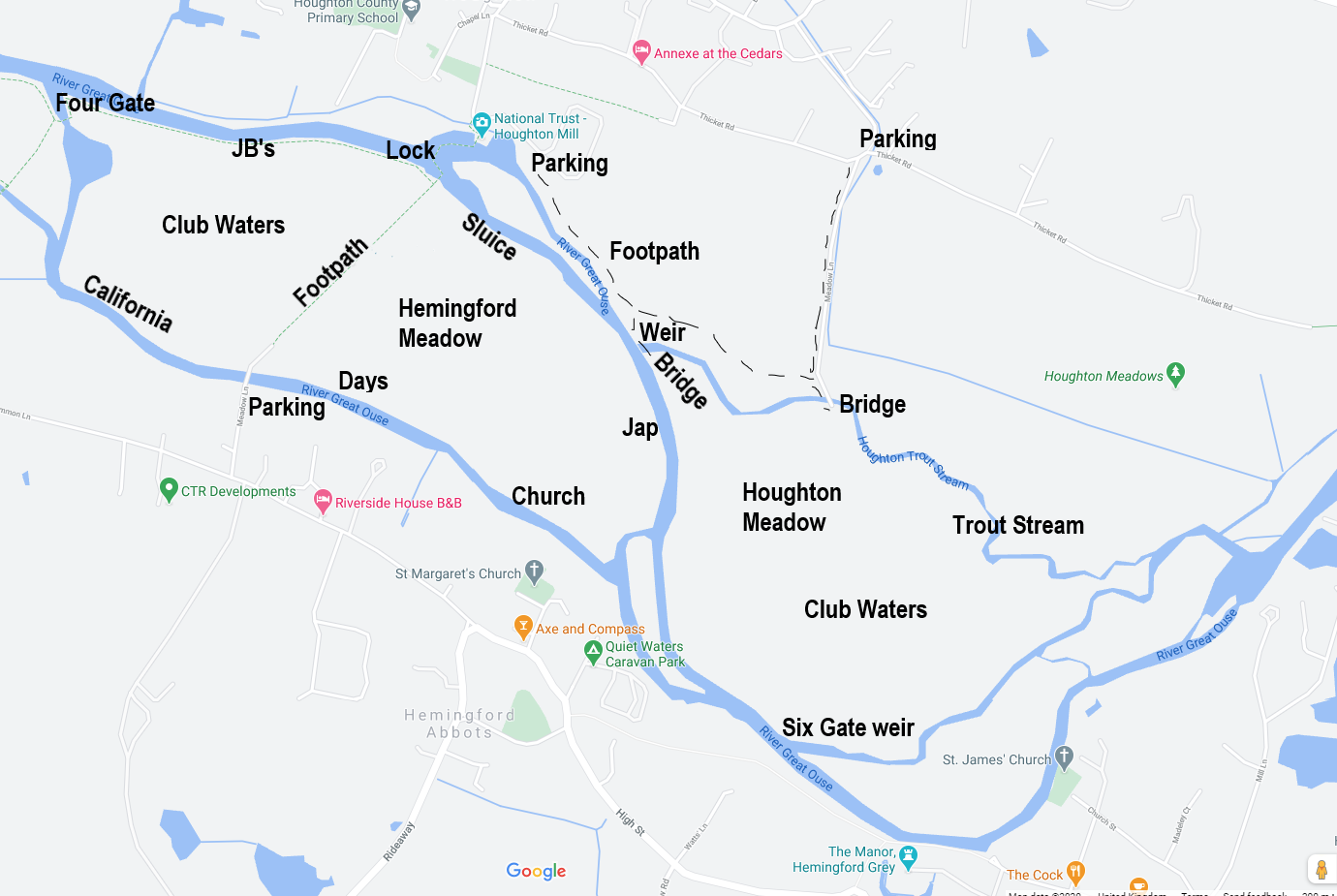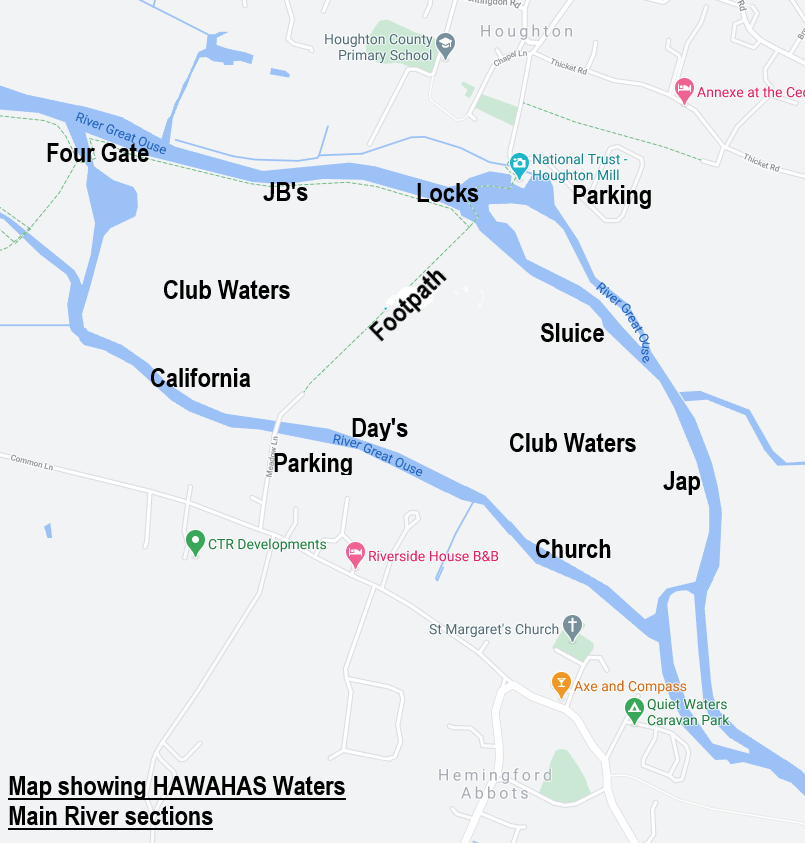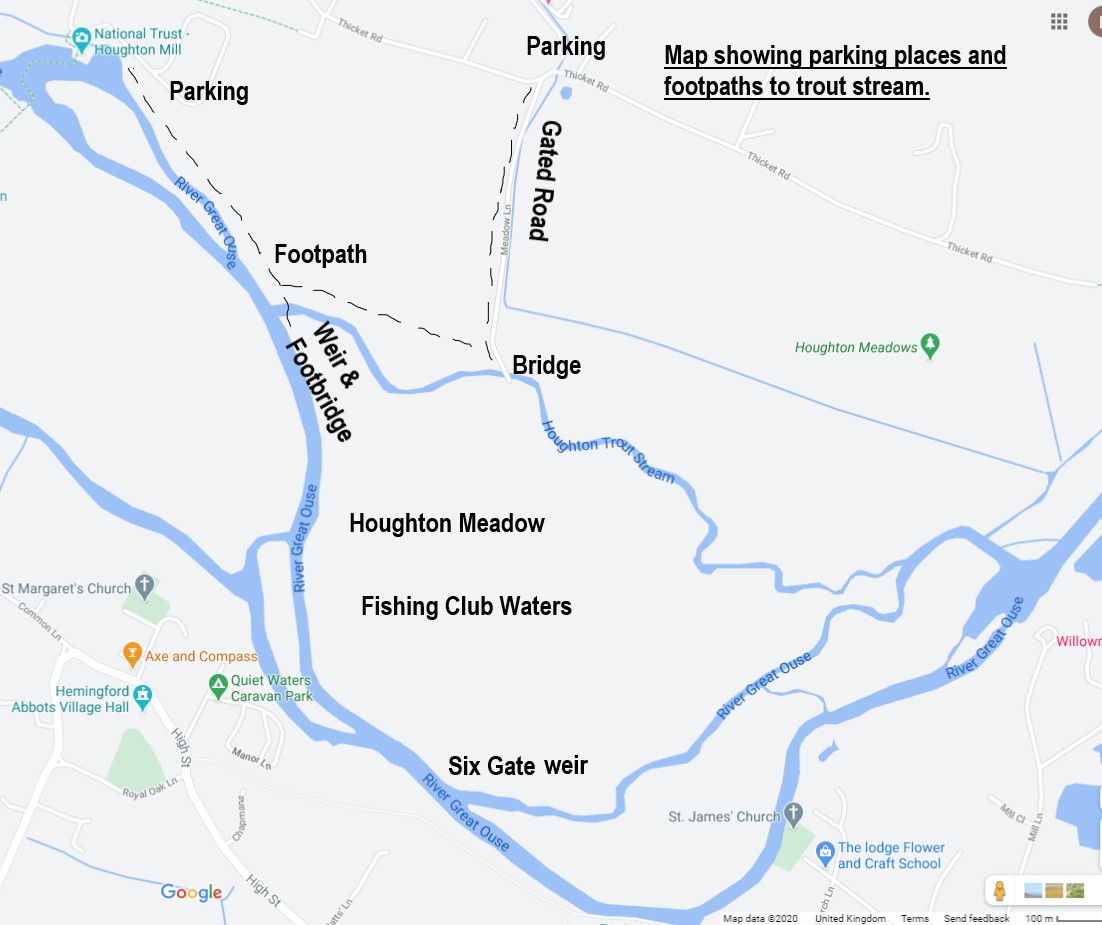 The main river starts above the Four Gate sluice which is the JB's section. This runs down to Houghton Locks. Below the Locks are the Sluice and the Jap sections.
Below the Four Gate weir the Hemingford's backwater starts at California section and ends by the Bailey Bridge(also known as Black Bridge). Following this downstream are Days and Church sections which then meet up with the Jap section.
In addition, we also have the Trout Stream backwater which is accessible either by Thicket Road, Houghton or from Houghton Mill.
The main river section suffers from some boat traffic in the Summer months but does contain a good head of Roach, Rudd, Bream, Tench and Dace. A few Pike and Perch are also evident.
The Hemingford's backwater has better flow and very little boat traffic. Here you can also catch Chub and possibly Barbel or Carp.
The Trout Stream although very weedy is a typical chub stream which starts at the weir and meanders down to the main river below Hemingford Lock. This water holds some nice Chub and an abundance of silver fish. Around 2015 the EA stocked the Trout Stream with several hundred small Barbel as part of an improvement project. Unfortunately, very few have since been caught by anglers but please contact us should you catch one.
To fish the waters please ensure you buy a club ticket before fishing, these may be purchased at the following venues.
Houghton Post Office, The Green, Houghton, PE282AX
Hemingford Stores, 14 High Street, Hemingford Grey, PE289DR
St Ives Tackle, Unit 6, Houghton Hill Industries, Houghton, PE28 2DH
Stanjay Sports, 7 Old Court Hall, Godmanchester, Huntingdon PE29 2HS
Below are our current ticket charges.
Annual membership: £15
Annual membership OAPs: £10
12-16 year old season: £2
Under 12s: Free
Weekly membership: £8
No Day Tickets
Membership and visitors' tickets are issued on the understanding that the holder will return all fish caught to the water.
Parking is available at the National Trust car park in Mill Street, Houghton or in Meadow Lane, Hemingford Abbots. For the Trout Stream parking is by the junction of Thicket Road and Meadow Lane or at the National Trust car park.
Photographs of the river on Facebook
Further information can be obtained from the Club Secretary on 07907-824374 or by email to HandWandHas@gmail.com
Please ensure all anglers follow the country code and do not leave any litter on the banks.
Anglers must also be in possession of a rod licence which may be obtained from the Environment Agency (EA) or from any Post Office.
Please report cases of illegal fishing to the EA hotline 0800 807060.