May 2022
Do you have a great idea for the Parish?  Is there something you're concerned about?  Please get in touch with the Parish Clerk and let her know what you would like to be discussed at the Annual Parish meeting.
Cambridgeshire County Council – Platinum Jubilee update
: There is still time to participate in the project when the new planting season starts in October, with now being the ideal time to start planning. The Woodland Trust is giving away free trees to schools, community groups, and Parish Councils who would like to carry out their own planting projects; you can find out more at:
https://www.woodlandtrust.org.uk/plant-trees/schools-and-communities/
. Applications are open now for delivery in November, but make sure you get your application in soon as the initiative usually experiences high levels of demand.
For more advice on planning a planting project, go to our dedicated webpage: The Queen's Green Canopy Project – Cambridgeshire County Council. Once planted, do not forget to log your trees on the national map: Map – The Queen's Green Canopy (queensgreencanopy.org). You can also peruse the map to see what others have done if you are looking for ideas.
As you'll probably be aware, there is an extended bank holiday weekend from 2 – 5 June to celebrate The Queen's Platinum Jubilee. Many groups across the county are organising events in their local communities, but if you haven't already planned anything we have plenty of advice on our website about things you may need to consider. You can find this at: How to get involved – Cambridgeshire County Council. If you are holding an event to mark the Jubilee, let us know using the link on this page and we will add it to our events map.
April 2022
WHEN 'THANK YOU' ISN'T ENOUGH
Residents of Hemingford Abbots know that they live in a beautiful village. They also recognise the diligence and selfless management of its custodians, the Parish Council (PC), led by people who really care and who commit significant time and effort over many years to that cause.
Two of those leaders, Bridget Flanagan and John Peters, are stepping down after the May elections, having given more than twenty years' service to the Parish Council.
Bridget and John have both chaired HAPC, as well as serving in a number of other capacities, which they have discharged enthusiastically, loyally and with complete dedication. A profound debt of gratitude is owed to them both, so we want to say 'Thank You' on behalf of parishioners past and present – even though we appreciate that these words will never be enough to adequately repay your contributions.
Marcus Whewell
Chairman
HUNTINGDONSHIRE RESIDENTS BEGIN TO RECEIVE £150 ENERGY
PAYMENT – news from HDC (PDF)
March 2022
To support the new 20 mph speed limit in the village the Parish Council have a number of wheelie-bin stickers available free of charge.  If you would like one please email the Parish Clerk on parishclerk@hemingford-abbots.org.uk.
Closure of St Ives Viaduct, A1096, Harrison Way, St Ives over four weekends.
The closures will run from 20:30 on the Friday until 05:00 on Monday morning during the following weekends:
18th March 2022 – 21st March 2022
25th March 2022- 28th March 2022
1st April 2022 – 4th April 2022
8th April 2022 – 11th April 2022
The reason for the closures are that the bridge joints that were installed in 2017 have been found to have faults within the joints themselves and concrete and need to be repaired. This will mean access is needed to the entire stretch of the carriageway and so to minimise the affect on commuter traffic, work will be carried out 24hr works on rotating shifts at weekends. It is hoped one joint per weekend, hence the 4 dates.
For more information please contact Cambridgeshire County Council on :
Highway Maintenance
Cambridgeshire County Council
Tel: 0345 045 5212
February 2022
The Environment Agency Anglian Waterways Team is currently looking for volunteers to assist boaters at the locks at Houghton, St Ives, Godmanchester and Eaton Socon; please click on the following link for more information:
January 2022
The Queen's Green Canopy – article from the Parish Magazine
In 1935 Hemingford Abbots celebrated the Silver Jubilee of King George V and marked the occasion by planting two Silver Birch trees either side of the Village Hall. Today, 86 years later, these trees are magnificent specimens in the centre of our village. Next year, 2022, is the Platinum Jubilee celebrating 70 years of Her Majesty's reign; communities and individuals across the United Kingdom are invited to plant commemorative trees. The slogan is 'Plant a Tree for the Jubilee'.
So how can we in Hemingford Abbots join with the commemorative planting – and at the same time enhance our environment, and help mitigate the effects of climate change? The official website explains the various opportunities. https://queensgreencanopy.org/
The Parish Council will explore whether there are any sites in public areas of the village where a tree or trees can be planted, and, in particular, will ask the County Council Highways if they will allow trees to be planted on verges. But individual parishioners can also play their part in 2022 by planting a tree, or trees, in their gardens; they could significantly help to increase the 'green canopy' of our village. Hemingford Abbots has one of the largest collections of trees around its settlement in Huntingdonshire. The view of the large cluster of trees in and around the village is a distinct feature on the approaches from Rideaway and New Road. Let's look to the future – for by planting trees now, we ensure that there will be a succession of trees here for future generations.
The Parish Council would like to keep a tally of how many new trees are planted in the village in 2022. Please could you let me or the Clerk know – and let's try for a grand total at the end of the year.  And if anyone has any suggestions for any single or group plantings on other areas of land, please be in touch. Bridget Flanagan.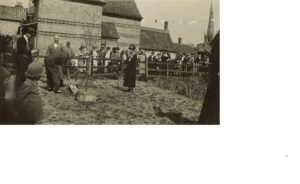 Image is of John Perkins planting the Silver Birch to the west side of the Village Hall in May 1935
December 2021
Are you a regular walker in the village and/or have a passion for the trees in our conservation area? If so, the Parish Council would love to hear from you! The Parish Council are looking to find a Footpath and Tree Warden; please click on the links below for more information and contact the Parish Clerk via email at
parishclerk@hemingford-abbots.org.uk
if you would be able to help:
November 2021
Anglian Water Support Poster (PDF)
During the Christmas and New Year period waste collection days will change; unfortunately there are four weeks of disruptions which start the week before Christmas. Residents can view their collection calendar via www.huntingdonshire.gov.uk/bins
The household recycling centres will close at 1pm on Christmas Eve and will be closed on Christmas Day, Boxing Day and New Year's Day.  A booking system is now in place at all sites so if you are planning on visiting between Christmas and the New Year, book a slot today.  Visit www.cambridgeshire.gov.uk for more information.
Christmas Tree Recycling HDC are supporting East Anglia's Children's Hospice again this year who will be collecting real Christmas trees for recycling on Saturday 15th January 2022. To check availability and book your slot visit just-helping.org.uk/register-tree. Donations received from the Christmas tree collection provide vital funds for your hospice and other local charities. Real trees can be placed by the side of the garden bin on collection day.  If the tree is bigger than the bin we ask that it is chopped in half. The Household Recycling Centres will also take Christmas trees.
October 2021
Notice from the Environment Agency: Please be aware Houghton Lock will be closed to navigation between Monday 29 November and Friday 10 December 2021 as a result of contractors undertaking bridge repairs.

September 2021