Unless stated otherwise, all updates regarding Hemingford Park are provided by PROVE.
28th September 2023 (Parish Council Update):
On September 28th, HAPC submitted a formal complaint to HDC Enforcement Department regarding the perceived inadequate response to various potential planning irregularities observed at Melior Spa (the former Little Chef on the A1307), and also Hemingford Park.
The letter of complaint that was sent to HDC Enforcement on the 28th September 2023 can be found here (in PDF format).
Updated information – 29th August 2023:
PROPOSED DEVELOPMENT OF HEMINGFORD PARK – RECENT LEAFLET
We understand that households in the village have received a leaflet regarding the proposed development of Hemingford Park. (See below) The leaflet has been distributed on behalf of Dr Phil and Rachel Kaziewicz (the applicant/s) by their appointed Planning Consultants namely, Artisan Planning & Development Consultants.
Please make special note that, as stated on the leaflet 'no application has yet been submitted. The working drafts of these applications will be posted on the Artisan website on Wednesday 16th August, and you will be able to leave your comments there or pose questions which will be addressed by ARTISAN.'
COMMENTING
We have been invited to comment on these draft documents across the 4 applications. (This totals 125 pages per each of the draft applications – including many diagrams and plans).
At a recent Parish Council Open Evening, Dr. Kaziewicz agreed to hold a public meeting, which was welcomed by the room.
Perhaps in light of the draft nature of the plans on the Artisan website – and the volume of documents – would it not be more beneficial for all parties concerned for a public meeting to be convened by the applicant – to share with the village, his thoughts, plans and direction of this large application.
Therefore it may be considered relevant to lodge a comment with Artisan requesting a public meeting of this kind for the benefit of all.
PROVE
Protect and Preserve our Village Environment
Updated information – 27th March 2023:
Change of Use application
The C3A Change of Use application has been withdrawn from the Planning Inspectorate Appeal (by the applicant , February 2023) and has also been withdrawn at HDC.
The Non-Material Amendments were refused as non-material by HDC (February 2023), and the applicant has been advised by the Case Officer that if the applicant wishes to pursue the amendments, a fresh planning application for the whole development must be submitted.
It is understood that the applicant will now be undertaking a pre-planning meeting/s with HDC before lodging a new formal planning submission.
At the Parish Council Open Evening on March 8th, there was a request from the floor for the owner of Hemingford Park to host an Open Meeting to discuss plans for the development with the parishioners. The owner agreed to this suggestion but no date has yet been agreed or published.
Updated Information – 26th January 2023:
A Planning APPEAL has been lodged: Hemingford Park 21/01768/FUL Change of Use
For information on this APPEAL and what to do next DON'T MISS THIS VITALLY IMPORTANT Village Meeting for YOU the villagers, as residents and custodians of this special Village:
Hemingford Abbots Village Hall
Sunday 5th February 7.30pm
This appeal has been lodged with the PLANNING INSPECTORATE – we have a deadline of 10thFebruary to submit further and additional comments. Your thoughts and comments are vital, and matter NOW – more than ever!
NOTE: comments received AFTER 10th will NOT BE CONSIDERED!
It's now up to you – to all of us, to Protect and Preserve Our Village Environment
Updated information – 20th January 2023:
An appeal has been lodged with the Planning Inspectorate with regards to Hemingford Park planning application (C3a Change of Use).
PROVE were first made aware of this on the 6th January 2023 and have been working on all the relevant documents and associated information since that date.
As of the 13th January HDC were tasked with informing those residents who had sent letters to them last year. We notice that many villagers have already received this letter from HDC and, in case you have not yet received your own copy – it is laid out below and here in PDF form for your notice and information: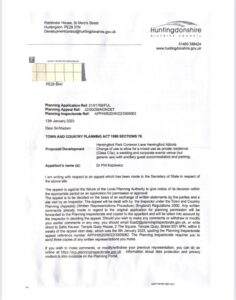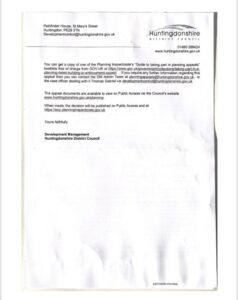 WHAT DOES THIS LETTER MEAN?
and
WHAT DO I NEED TO DO NEXT?
Within the next 2 weeks a meeting will be held for YOU, the villagers – so that PROVE may better explain what this letter and appeal means, what the next steps will be and how to lodge your comments with the Planning Inspectorate.
When we have availability confirmed – the meeting will be held in the Village Hall (Hemingford Abbots) and the date and details will be posted on this site as well as a leaflet distribution in the village.
This is a call to all members of this special country village to attend this important village meeting, please do watch this space for further updates.
PROTECT AND PRESERVE OUR VILLAGE ENVIRONMENT
24th October 2022 (Parish Council Update):
At the Parish Council meeting, Susan Painter gave an update on the activities of PROVE. A new case officer for the Hemingford Park planning application has been appointed by HDC (Richard Sakyi). There is no news to report on the application itself. It was stated that the new tarmac road in front of the house was built without planning permission and is currently under investigation by HDC enforcement. HDC has requested new drawings for the lodge entrance from the applicant, but so far these are not available to view on the HDC planning portal. PROVE is in the process of becoming a limited, community company.